5016 Turtle Lane East, Shoreview MN 55126
(651) 216-0110
100% Compostable Food Service Ware
Recyclaholics' food service ware is made from vegetable-based ingredients, which contain zero or negligible amounts of petrochemicals. When used in a proper composting environment, they will break down into carbon dioxide, water and natural minerals in a short period.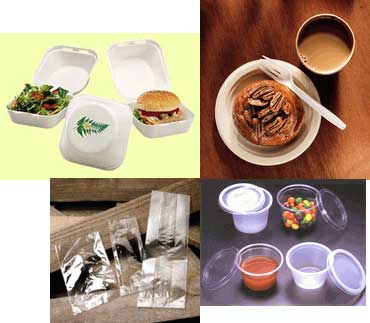 We carry a full line of these products for your event or organization, and new products are being added regularly. Examples include:
Plates & Bowls
Cutlery/Flatware
Hot & Cold Cups and Lids
Sample Cups
Straws
Napkins & Wraps
"To-Go" Containers
Food & Sandwich Bags
In addition to a range of styles, sizes and materials, we also offer custom printing and manufacturing.
Most of our products are certified to be 100% compostable and fully compliant with the ASTM D6400-99 standard, which assures that they leave no known residues in the ground or water supply. These items carry the seal of the US Composting Council.
Current Prices
To view a list of our current prices, click here.
To place an order, or to find out more, click here or call (651) 216-0110.
Home | Compostable Bags | Food Service Supplies
Sample Packs (New!) | Price Lists | Contact Us | Links
Page last updated November 09, 2005
© 2005 Recyclaholics
(651) 216-0110